smart ports: reimagining seaports for the digital age
Maritime Singapore is one of the lifelines for the nation's economy. As a global hub port and international maritime centre, Singapore needs to leverage technology and innovation to stay ahead.
Maritime Singapore is one of the world's busiest container hub ports, and the fifth largest ship registry in the world. It is home to over 5,000 maritime establishments and 130 international shipping groups.
But after decades of operation, the maritime sector must evolve to address new challenges. Vessels are getting larger, and there are more of them than ever before. Ports aim to turn ships around in the same period of time, despite much higher volumes of cargo. What's more, the increased size and number of ships will put great demands on Singapore's limited sea space.
In addition, Maritime Singapore must respond to disruptive technologies and business models, increasing manpower constraints, and rising expectations around safety standards and efficiency. On top of that, the seaport is under pressure to reduce its carbon footprint and become more sustainable.
The consolidation of container terminals in the city to Tuas Port is an ideal opportunity to reinvent Singapore's maritime industry for the digital age. The new port could adopt an innovative operating concept and cutting-edge technologies to enable next-generation port operations. This will help Singapore cement its position as a leading port, even as global competition intensifies.
In this paper, we will examine what a smart port could look like, explore use cases, discover examples of innovation in action, and explain why NCS is well-positioned to deliver smart ports.
What makes a port smart?
Leading ports across the world are aspiring to transform their operations. Their goal is to become smart ports levering on digitalisation and automation.
Our smart port vision focuses on enhancing port safety and efficiency, boosting productivity and delivering better customer experiences. We achieve this through digitisation, automation and the development of next-generation port systems.
The idea is that when ships call at the port, they should not have to wait at the anchorage and take up limited sea space. Instead, the port can immediately dispatch a pilot to bring the ships to berth, for cargo operations to commence immediately. The port provides just-in-time services for bunkering, provision of water and supplies, minor repairs, and the changing of the crew. After a quick turnaround, the ship can continue on its way.
Let's delve deeper into the main use-cases to better understand how NCS can help port operators transform this vision into reality.
NCS's point of view on next-generation port operations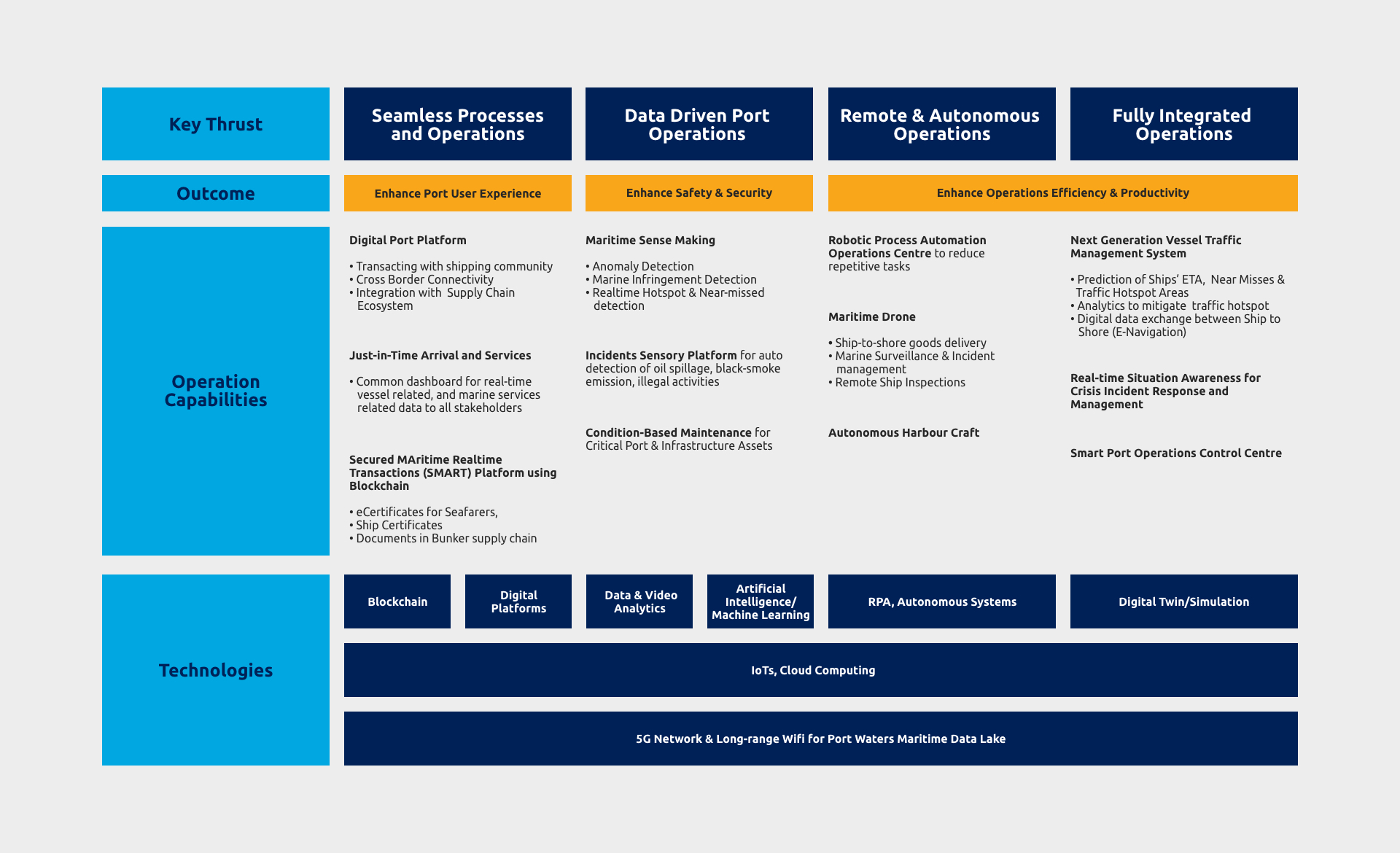 To enhance port user experience, there should be a digital platform to streamline all transactions such as vessel, immigration and port clearances that each vessel needs to fulfil when it arrives at the port; and enable secure cross-border data sharing making the port 100% paperless, saving hundreds of thousands of person-hours each year.
Blockchain technology has a great potential to transform the port industry in a big way. For example, having a Secured Maritime Application Realtime Transactions (SMART) platform to replace physical certificates for ship registrations and seafarers with tamper-proof eCertificates will generate significant savings for ship owners, port authorities, and seafarers world-wide. SMART can also be applied in the bunkering sector to reduce paperwork, enhance transparency and security of sharing critical information among the stakeholders.
To become a smart port also means the ability to derive maximum value from the big data that one has. A data-driven port can leverage advanced analytics for sense-making such as automated detection of vessel movements to pinpoint infringements, hotspots and near-misses.
Using powerful video analytics, ports can automatically detect oil spillages, smoke pollution and illegal activities.
With the proliferation of drone applications, it is expected that marine drones will be deployed increasingly in the near future, for instance in ship-to-shore deliveries and remote ship inspections to minimise human contact during a pandemic.
A fully integrated port operations require a common situation awareness picture to be shared among all operational units within the organisation. This can be achieved by setting up a port digital twin to facilitate effective management of marine incidents, marine enforcement, and deployment of next generation vessel traffic management system with e-navigation capability.
Innovation in action
In the past few years, we have been awarded several major projects by the Maritime and Port Authority of Singapore (MPA). These have enabled us to accumulate expertise in the maritime industry.
digitalPORT@SG™
We helped MPA to develop and deploy a one-stop portal – digitalPORT@SG™ – that enables shipping companies to submit all port clearance documentation to different government agencies in one submission. This makes it much easier for shipping companies to meet regulatory reporting requirements and save the shipping community around 100,000 man-hours a year. These huge efficiency gains sparked swift uptake of the new portal – with 100% of port clearance submitted via the new digitalPORT@SG™ within a year of its launch.
This new system will also help the government agencies achieve better port operations and coordination while optimising each ship's time within our port waters. Faster processing also enables the port to clear more vessels and increase traffic throughput – boosting the maritime sector's performance and strengthening Singapore's standing in the global maritime industry as an efficient global hub port.
Singapore Maritime Data Hub
We built a new centralised data hub, Singapore Maritime Data Hub (SG-MDH), that enables shipping companies and government agencies to share maritime open data. This includes information on the vessel itself, its location, movement, arrival and departure times.
SG-MDH was the world's first open data-sharing platform established by a port authority. It has given developers a powerful platform for building new applications to support the maritime industry. For example, start-up Claritecs has used the platform to build an app for scheduling just-in-time bunker deliveries. Another start-up, SG Smart Tech, has developed a boat ride hailing app. We envisage that there is also potential to use SG-MDH to develop a maritime digital map for emergency responses, a sea space utilisation map, and more efficient ship-to-shore communications.
In January 2020, SG-MDH won the Ministry of Transport's Minister's Innovation Award for its impact on the maritime industry. To date, more than 230 developers and 51 organisations have signed up for SG-MDH. The platform paves the way for more data-sharing between government agencies and the industry, including opportunity for extending it to other national governments.
Ship height detection system
A key component of our smart port offering is our proprietary Ship Height Detection System (SHDS). It provides automated detection, tracking and height check of vessels entering and departing Cruise Bay Area.
SHDS is a hybrid smart system utilising automatic identification system, low light cameras with advanced PTZ (Pan, Tilt, Zoom) platform and laser sensors to locate and detect vessel over-height. The built-in video analytics algorithm enables reliable automatic vessel height detection during vessel crossing whether it's day or night, and under challenging weather conditions.
This sophisticated system generates huge value-added benefits for smart ports. It boosts operational productivity, by accurately measuring ship heights and provides early warning and alarm to relevant parties. Most importantly, it improves safety of overhanging structures across key waterways.
The route forward
NCS is uniquely positioned to deliver smart ports. We have end-to-end capabilities to:
enhance the experience of port users
enable data- and AI-driven operations
boost efficiency by introducing automation
break down siloes and enable integrated operations.
By leveraging our expertise in the maritime industry and technical domains, we can work with clients to dive deep into specific smart port areas to conceptualise next-generation systems. We can also partner with customers to co-create new innovative solution concepts through POCs and ideation. Furthermore, we can generate new use-cases and industry applications for NCS solutions.