Published: Jul 25, 2022
putting citizen experience at the heart of government services
Commercial enterprises have long been attuned to the importance of providing a great customer experience. Now governments too, are increasingly recognising that they need to put citizen experience at the heart of their dealings with the public. This is especially true in light of the Covid-19 pandemic, which highlighted just how crucial government services are in the lives of citizens while also drawing attention to things that can be improved in the way government agencies around the world engage with the public.
Getting the customer experience right means acknowledging that the behaviours and expectations of citizens have changed. Today's citizens tend to be fairly tech-savvy and they are increasingly comfortable with the presence of technology in nearly all areas of life. We can see this in the widespread use of track-and-trace technology during the pandemic and the phenomenal growth of the e-commerce sector over the past few years, for example. In 2014 global e-commerce sales totalled USD1.3 trillion; by 2021 it was approximately USD 5 trillion.
The International Telecommunication Union (ITU) estimates that 63 percent of the world's population used the Internet in 2021. With people spending more time at home due to the pandemic, the Internet has become indispensable in many areas of life — people have come to rely on it for everything from accessing government services to consuming media to receiving health updates to buying groceries to conducting bank business and more.
Social media use is also on the rise. There are around 4.6 billion social media users in the world today, ten percent more than a year ago and three times more than a decade ago, and there is a dizzying variety of platforms for users to choose from.

Not surprisingly then, many people now expect government agencies to provide high-quality digital services. According to The Global Trust Imperative, a report released by Salesforce and BCG, 76 percent of people believe that online government services should be on a par with or better than those offered by the best private sector organisations, including 32 percent who believe they should match those offered by the likes of Amazon, Google or Facebook.
Government agencies need to ensure that their digital services are easy to use, hyper-relevant, secure, and easily accessible. This will be beneficial for both citizens and the governments that serve them — citizens will be able to enjoy better health and financial security, among other things, while governments will be able to improve efficiency and earn the trust of citizens.
Leveraging data to better understand citizens' needs
There is certainly room for improvement in government services. The survey conducted by Salesforce and BCG found that 64 percent of Singaporeans encountered one or more problems during their most recent digital interaction with the government, just short of the global average in 2020 (70 percent). Common problems cited by survey respondents around the globe included technical difficulties (20 percent of respondents), time-consuming or difficult processes (21 percent), and a lack of help (16 percent).
Improving the citizen experience begins with understanding citizens and the issues that affect them. To do this, governments will need to gather data, which means overcoming citizens' concerns on privacy. Fortunately, around half of the people surveyed by Salesforce and BCG said they would be willing to share data with the government if it meant that they would get some benefit in return, such as greater convenience, or if the community stood to benefit.

Government agencies in Singapore already have a large repository of data at their fingertips thanks to the Smart Nation initiative. Under the initiative, numerous data sets collected by public agencies operating in a range of sectors have been made publicly available on data.gov.sg. The data include things like school and kindergarten enrolments, hospital admissions, property prices, mobile data usage, energy consumption, public transport ridership, and more. By analysing this data, agencies can predict citizens' needs and develop useful and user-friendly digital solutions or partner with appropriate solution providers.
Singapore's public sector has already notched up some success in this area. Notable examples include:
SGSecure, a mobile application that enables the police force and relevant authorities to send important alerts to the public and allows the public to seek assistance and provide information on major incidents.
CPFB CareShieldLife System, which enables seniors to view information on their insurance scheme and login via SingPass to access relevant e-services.
MySkillsFuture, a one-stop digital platform offering education, training, and career guidance to citizens of all ages.
SingPass, a digital identity document which allows easy access to a wide range of digital government services.
MyICAPortal, where the public can access their personal information and the Immigration & Checkpoints Authority's (ICA) range of e-services on a single and secure digital platform.

---
Addressing concerns about privacy
There are numerous tools which governments can use to gather and analyse data, including machine learning (ML) and other forms of artificial intelligence (AI), sensors, video surveillance systems, and more.
In Singapore, the Housing and Development Board (HDB) has launched the Smart-Enabled Home Initiative which involves using data collected from sensors to optimise energy efficiency in homes and provide a range of smart home features.
One notable NCS contribution in this area is the HDB Smart Hub, which collects data from sensors embedded in HDB estates and generate insights for HDB. These insights can be used to optimise the use of resources like energy and water and minimise service disruptions.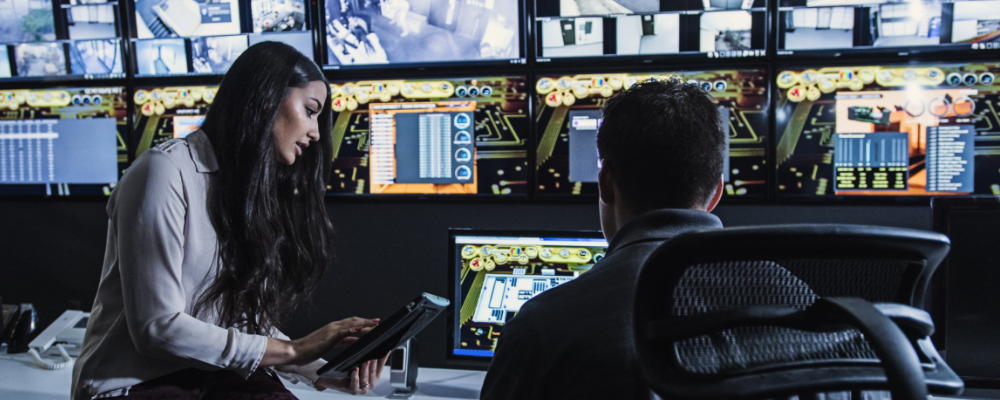 Public institutions in other countries have launched similar initiatives: in Hanoi, authorities have partnered with Siemens to install an intelligent traffic management system which makes use of video analytics; in Los Angeles, AI is being used to spot fires; and in Belgium, Nokia Scene Analytics, which uses ML to monitor video and audio feeds and sensor information to flag incidents in real time, has been deployed at various sites across the country to increase security.
However, many citizens are concerned about the implications of governments amassing all this data. It could be seen as an encroachment on the privacy of citizens and there is the potential for governments to use the data to curtail citizens' freedom. Government agencies should address these concerns by being transparent about what data they are collecting and clearly communicating to the public the reasons for collecting it. Wherever possible, data should be anonymised, and citizens should be given the ability to manage consent.
Fortunately for public institutions in Singapore, trust in government is high. The challenge, as the government goes digital, will be ensuring that this continues to be the case.
---
How do governments go digital?
Digitalising government services is a major undertaking which requires careful planning. Public institutions embarking on the digitalisation journey would do well to use the Singaporean government's Digital Government Blueprint as a guide.
As part of the Smart Nation initiative, the blueprint lays out a vision for a government that is "digital to the core and serves with heart." This involves transforming businesses end-to-end, including policy development and planning, operations management, and service delivery.
To achieve this aim, NCS is working closely with governments to:
Strengthen integration between policy, operations, and technology
Re-engineer IT infrastructure
Operate reliable, resilient, and secure systems
Integrate services around citizen and business needs
Co-create with citizens and businesses and facilitate the adoption of technology
The opportunity to harness technologies and deliver citizen services for a fairer future has never been greater. With its wide spectrum of specialisations, NCS Gov+ can enable interoperable solutions and seamless services. These are just a few ways in which NCS Gov+ is partnering with governments, policy makers, and citizens in forging the digitalisation paths that advance our communities.