Published: Sep 05, 2019
NCS' S

entinel protects

Singtel

unboxed - an unmanned 24/7 pop-up store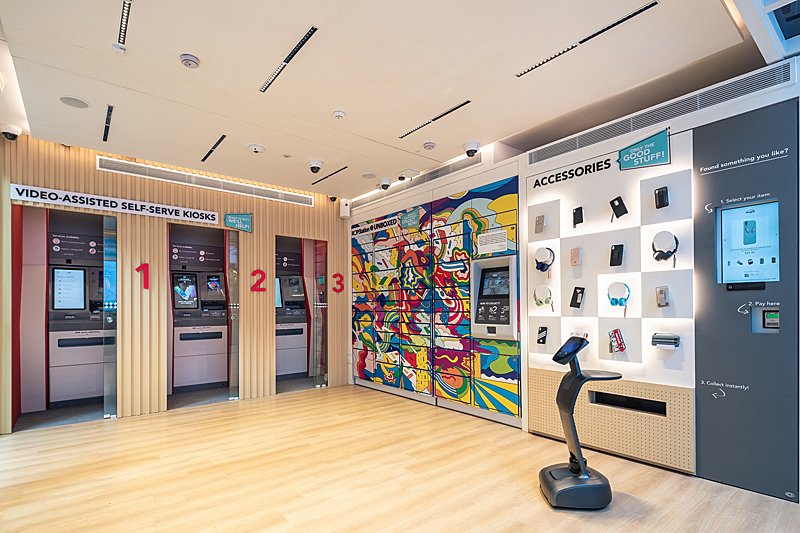 UNBOXED by Singtel is an unmanned 24/7 pop-up store designed to introduce customers to a new retail experience featuring the convenience of digital technology in a friendly store environment.
In a first for Singapore, customers can consult with a roving live bot, which is powered by facial recognition technology, to receive personalised recommendations; try out phones; conveniently sign up for mobile plans at video-assisted self-serve kiosks; and immediately collect their purchased devices from the in-store POPStation. Additionally, customers can browse and buy popular accessories such as headphones, phone cases, power banks and contract-free handsets. They can also make bill payments, top up prepaid cards and Dash wallets, and get instant SIM card replacements.
UNBOXED fulfils the needs of today's consumer and provides a peek into the next-generation of retail – fast, instant, convenient and experiential. Measuring 45 square metres when fully extended, it can be easily transported and reconfigured to fit different spaces.
Co-created by Singtel staff, NCS and SingPost, security for the store is provided by NCS which developed a round-the-clock security platform called Sentinel while the POPStation lockers are prefilled with devices and replenished daily using SingPost's Last Mile Platform ("LaMP").
NCS Sentinel protects Singtel UNBOXED through an immersive and advanced 3D physical security information management (PSIM) software. A state-of-the-art remote security platform, Sentinel ensures that UNBOXED can stay truly unmanned while offering a highly secure shopping environment for consumers.
NCS' Sentinel - advanced 3D physical security information management (PSIM)