Published: Oct 20, 2020
NCS O

neShield: a digital solution to ensure workplace safety during the

COVID

-19 pandemic
NCS OneShield: A digital solution to ensure workplace safety during the COVID-19 pandemic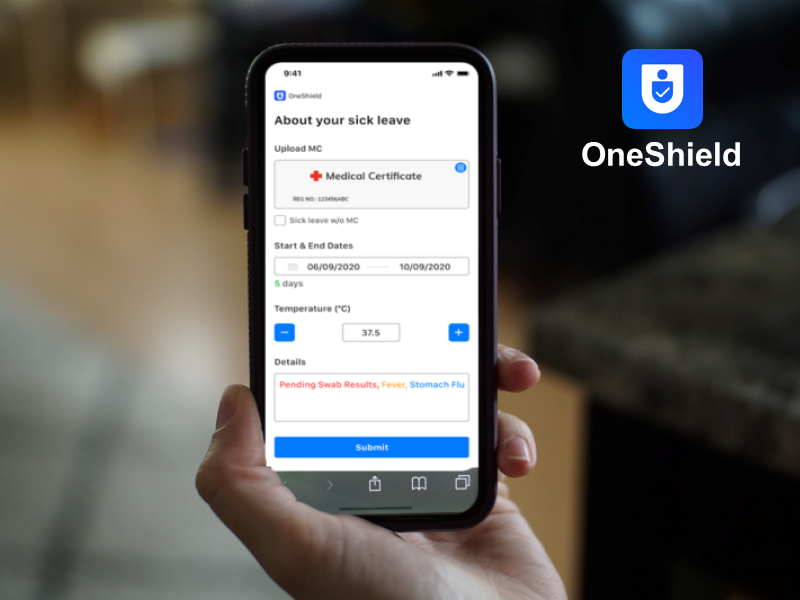 The COVID-19 pandemic has changed the way we live and interact. Safe distancing, temperature screening, checking-in and out of shops, malls, and offices are now common practice to help tackle the pandemic. As offices re-open, there is a heightened responsibility to ensure workplace safety and monitor the wellbeing of employees.
As a rapid response measure, the Singapore Government introduced Safe Entry and TraceTogether. These apps have created the means for effective data collection used in contact tracing, as businesses of all types are required to enforce check-in and conduct temperature screening when people visit their premises. However, the collected data is not made available to organisations, resulting in the need for independent information gathering on the part of organisations themselves.
Deriving insight for a post-COVID workplace
With the aim of collecting data for informed decision-making, NCS created OneShield – a mobile application that helps organisations gather information about staff who have fallen ill. OneShield allows an organisation's staff to conveniently apply for sick leave and update their health status online. With this solution, businesses can perform organisation-wide risk monitoring, place staff on quarantine if need be, and tackle the spread of the coronavirus amongst its own workforce.
Providing convenience for staff and managers
OneShield eliminates the need for staff to connect and access the office network to submit medical certificate and health status report. Staff can provide information in real-time while waiting to see a doctor, and their reporting officer is able to view and acknowledge health updates in an instant. This prevents managers from overlooking an acknowledgement request sent via email.
Features of OneShield:
Inform: In the shortest possible time, staff is able to inform their Reporting Officer (RO) when they fall ill. This is accompanied by details such as leave duration, temperature, symptoms, and whether a COVID-19 swab test has been taken. For high-risk cases, information about their department, date, time, places visited, and people they have encountered will be useful to reduce lag time if an employee does test positive for COVID-19.
Analyse: Gather and slice the data by location, date, time of visit, department, and close contacts. With the use of an analytics platform, Human Resources (HR) can cover various angles to improve their effective prevention measures. They can calculate exposure and keep close tabs on those who have been in the same space even if their names were not mentioned during contact tracing.
Monitor: To achieve organisation-wide risk-level monitoring, managers will need to monitor their subordinates as part of the infectious disease preparedness and response plan. This begins with a daily health declaration status update by staff on sick leave with information about their temperature, swab test results, and how they feel. With the information, managers can take necessary action to curb the spread of the coronavirus.
Automate: When dealing with time-sensitive issues, automated alerts should be in place so that everyone along the chain of command is informed when a COVID-19 case is identified. This reduces the risk of erroneous messages and delayed responses.
Pandemic preparedness through data visualisation
To provide a bird's eye view of the health situation in the organisation, a dashboard collates data and provides up-to-date information. This enables management, HR and pandemic committee to review and take action quickly to prevent the formation of a COVID-19 cluster.
The dashboard was built around questions asked by the committee:
How do we know if a cluster is forming?
How many employees are experiencing COVID-19 symptoms?
Are the managers aware of their staff's wellbeing?
With a data analytics dashboard, the pandemic committee can also determine which teams have the highest number of staff on medical leave, and if containment of that business unit needs to take place.
Using the dashboard, the pandemic committee is easily able to judge the overall situation by seeing very quickly the key figures in their organisation's staff. Trends in staff behaviour are easily spotted, and a corrective disease response plan can be quickly initiated to prevent infections across the workplace.
Safe return to the office
Beyond the how, it is equally important to remember the purpose of this endeavour, which is to protect the workforce and restore freedoms. In other words, giving staff the option of going back to the office, with the knowledge that safeguards are in place that ensure a safe workplace for all.
COVID-19 is highly contagious, spreading twice as fast as Severe Acute Respiratory Syndrome (SARS), at a rate of 4 – 4.5 days, as reported by TodayOnline. We need to acknowledge that most organisations' HR systems are not designed to respond to diseases of such rapid onset, and a new solution that integrates well is vital.
Being proactive from the top
Leaders must also take a proactive approach to streamline processes to monitor, detect and activate office safety plans. HR needs to have immediate access to an employee's health status, and they need the analytics capabilities to provide them with organisation-wide visibility. Critical information must be accessible throughout the chain of command, in real-time, at any given point. Processes need to be re-designed for data to flow seamlessly, ensuring that relevant individuals are alerted, and immediate action takes place when a threat is identified.
A better workflow supported by technologies like mobile applications and data analytics platforms can help to combat the coronavirus and ensure a smooth transition to our new way of working.
contact us for a discussion on mobility solution for your business.