Published: Jul 01, 2022
advancing enterprise transformation and innovation through
5G
The next generation of connectivity, 5G, has kickstarted major transformations in various industries and paved the way for the development of novel use cases and business models. However, the benefits derived from the leap of 4G to 5G (with enhanced speed, connectivity, and reliability) is still an area of uncertainty for many enterprises and industrials. To better understand how and where enterprises can succeed in capitalizing opportunities to transform and monetize with 5G, we examine some compelling business transformations best practices with 5G through the age of 5G industrial revolution.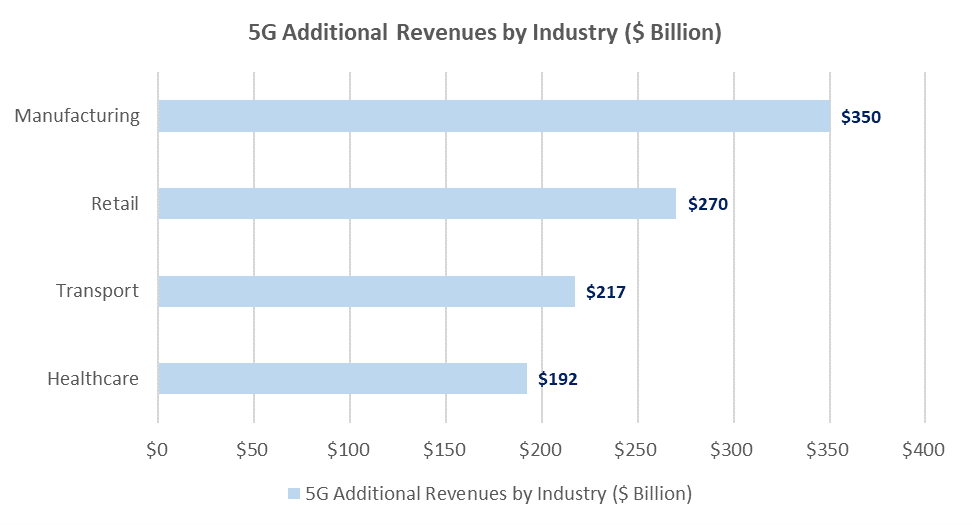 Source: Statista
To better showcase evolving business models, we examine several innovative use cases that players in key industries have employed to take their business to the next level with 5G:
Manufacturing
Manufacturers typically rely on the Quality of Service (QoS) of underlying communications to support real-time data processing, machine-to-machine-to-human communications, and industrial automation. In the past, communication and synchronization was not possible without pervasive connections throughout the facility which has been made possible with 5G today. These advancements empower manufacturers to utilise big data for analysis more effectively with a comprehensive QoS network.
For manufacturers, the adoption of private 5G networks is a growing trend – over three quarters of manufacturing organisations in developed countries aim to adopt private 5G by 2024 (Capgemini, 2022). Private 5G are networks designed for specific applications or use cases with indoor and outdoor coverage and a high degree of security, providing the user complete control over data, security, and network. Large-scale private 5G deployments require ongoing maintenance and IT resources to maintain and are usually adopted by larger organisations and can achieve high ROI. In contrast, public 5G can be deployed on-the-go, and even through an as-a-service, low-cost deployment model. This enables users to get started quicker and synergises with other IT applications for a wider range of use cases.
In Ericsson's Smart Factory based in Texas, US, its deployment of next-generation 5G technology at the site and its subsequent impact – an impressive 2.2 times improved output per employee, compared to a similar site without such automation and operational improvements (Ericsson, 2022). How did they achieve it? Ericsson introduced video analytics to monitor worker safety thereby reducing the number of workplace incidents involving workers. Deployment of Autonomous Guided Vehicles (AGVs) aided to automate unpacking, transporting, and organising of materials in factory, freeing workers to focus on more productive activities. Furthermore, 5G-powered augmented reality to enable remote experts to provide technical guidance for factory teams boosts collaboration and skill levels of workers.
As with Ericsson's smart factory case, 5G networks has demonstrated ability to be deployed for specific on-premises applications. With upgraded 5G networks, manufacturers also benefit by unlocking new technologies to maximise efficiency and productivity while building additional revenue streams – today and in the future.
Retail
Global challenges around the pandemic over the last two years have forced many retailers to go out of business, while others have had to find a way to pivot and increase their online footprint to reconnect with customers. 5G for retail aims to create superior customer experiences and innovate traditional retail facilities and touchpoints.
An interesting way retail business are evolving is through the development and growth of use cases in the metaverse – a virtual reality 3-dimensional space where individuals can interact to work, play, shop, socialize. In 2021, Nike launched its own metaverse Nikeland on Roblox where visitors can compete with each other, attend events, and even shop for clothing to dress their avatar (Accenture, 2022).
5G plays a crucial role in supporting a fully functioning metaverse by providing ultra-low latency and high throughput allowing multiple number of users connect to the same metaverse server and interact with each other in real-time. On top of foundational connectivity, most users interact on the metaverse using personal headsets. For practical reasons, these headsets should be light, cooling, and have lasting battery life – meaning that most of the processing capabilities must be shifted away from the device and onto the Edge. This, therefore, requires real-time connectivity and high bandwidth to support massive data transfer that only 5G can support. However, while these forays into the metaverse may help future-proof a business, such nascent technologies have yet to be adopted at scale.
Not all retailers have adopted 5G in such manner. In Singapore, an autonomous store start-up, Cloudpick, has established four of its stores around various university campuses in Singapore. Powered by artificial intelligence (AI) utilizing computer vision, Cloudpick employs smart shelves and sensors to track product removal and returns as well as when products leave the store – thereafter automatically charging customers for what was bought. The store can leverage on 5G's high bandwidth and low latency features to collect and process all data from sensors and video feeds around the store.
This empowers instantaneous response to customer actions, therefore providing a seamless retail experience that can be delivered to customers round-the-clock. This is an alternative approach to integrating 5G with a physical retail experience to create a convenient experience for customers.
Transport
Over the coming years, investments in 5G for transport in technologies such as Multi-access Edge Compute (MEC) will enable smarter and safer transportation from connected vehicles to autonomous transport to smart traffic ecosystems. 5G's enhanced bandwidth and ultra-low latency features support real-time big data capture and analysis on MEC, enabling vehicle-to-everything (V2X) communication and a wide array of innovations that can transform the way people travel.
Self-driving cars can be one such way – altering the way people move from products (purchasing vehicles) to services (paying based on distance travelled). The shift towards "mobility-as-a-service" (MaaS) also represent a convergence of data, software, hardware within the transportation industry. To fully unlock the potential of MaaS, enterprises involved along the supply chain must leverage their technologies on robust networks, such as 5G, to support mission critical MaaS. With the right partners and network, MaaS providers (from components vendors to mobility providers) can earn massive revenues built on a refreshed business model.
In Henan, China, Yutong has transformed itself beyond just a bus manufacturer to an autonomous fleet operator (BusinessWire, 2020). Although public transport has always been the traditional form of MaaS, building a consumer-centric, on-demand fleet of autonomous bus transforms the way passengers travel. Passengers can now hail an autonomous bus from their location and be sent to their intended destination, while the bus picks up other passengers along the route and plans the most optimal route to take.
To successfully implement such a solution, Yutong built an intelligent public transportation system solution based on the 5G network, integrated "vehicle-road-network-cloud" systems and orchestrated the integration of their network transportation system and their autonomous bus.
With 5G technology, traffic management systems and infrastructure such as roads, traffic monitoring traffic lights and pedestrian paths can greatly shift in the way they are utilised and monetised. Furthermore, these innovations can facilitate smart vehicle solutions, public and private safety features, real-time traffic analysis and routing, smart pedestrian services, etc. To transform the future of transportation means leveraging 5G to create more efficient, safe, and reliable vehicles and traffic systems integrated seamlessly with the environment and surrounding infrastructure, which has the potential to transform both the industry and people's lives.
Healthcare
The need for greater accessibility to healthcare has never been greater – pandemic-driven demand, longer life expectancy, increasing complexity of medical cases. These factors constantly strain the operations of healthcare facilities and providers, resulting in increased healthcare and insurance cost, while stretching the limited healthcare resources available.
The role that 5G plays as a critical enabler in healthcare is therefore massive. It enables transformation of the most critical elements within healthcare, by improving the quality of connections to better meet provider and patient needs accurately, efficiently, and quickly. 5G also brings about improved network consistency and enhanced security with private 5G, ensuring reliable and secure connection within hospitals at all times. As 5G becomes ubiquitous within healthcare through advances in robotics, Internet-of-Things (IoT) and AI, a connected healthcare ecosystem can be established that paves the way to the development of smart connected hospitals.
Within the evolving healthcare industry, providing higher quality of healthcare starts with quality training and an engaged community of providers. In some hospitals and universities, medical training facilities have been upgraded with 5G and cloud technology. With latency less than 10ms and ability to compute on the MEC, many real-life scenarios can be replicated and performed in a simulation. Furthermore, healthcare providers can instantaneously access real-time support and collaborate with seamless connection using 5G.
When hospitals mature and transform into smart connected hospitals, as is the case of a hospital in Guangdong, total patient care becomes more dynamic and personal. A full 5G healthcare facility, this hospital combined big data and AI to work with medical practitioners to offer services improving the convenience of diagnoses and treatments and connected communication.
These services include connected autonomous robots for delivery and disinfection, IoT platform for traffic management, inventory tracking and facility sensors, smart ambulances as mobile hospitals with real-time connection to specialists, and also telemedicine for remote consultation. As a result, these initiatives led to better overall healthcare for patients in the hospital and at home, instant transmission of critical information, and reducing the cost of healthcare for both providers and patients.
As the healthcare system continues to undergo immense pressure, the adoption of 5G along with other cutting-edge technologies can play a critical role in transforming many aspects of healthcare. This in turn can improve overall experience for both providers and patients and build a resilient foundation for smart healthcare systems for the future.
Considerations for enterprise decision-makers
The transition to 5G is more uncertain and complex compared to previous generations of networks. If enterprises are determined to unlock the value of 5G, they must look to quickly build, test, and launch use cases most suitable to their business needs to effectively realise benefits of advanced networks. Simultaneously, working with trusted partners on innovation and transformation can accelerate the realisation of 5G value and unlock opportunities within the organisation over the long term. While there is massive potential for enterprises to transform, being clear about what needs to be built and how to build it are key considerations for complete transformation with 5G.
References:
AI unmanned convenience store in Singapore. Pick & GO. Retrieved May 9, 2022, from https://pickngo.com.sg/
Accenture. (2022). Tech Vision 2022. Newsroom. Retrieved May 9, 2022, from https://newsroom.accenture.com/subjects/metaverse/accenture-technology-vision-2022-metaverse-continuum-redefining-how-the-world-works-operates-and-interacts.htm
Chow, W., Barnes, K., Meakin, R., Lakhdar, K., Perry, W., & Bartlett, C. (2020). 5G in Healthcare. PwC. Retrieved May 9, 2022, from https://www.pwc.com/gx/en/industries/tmt/5g/5g-in-healthcare.html
Ericsson's USA 5G Smart Factory. Ericsson. (n.d.). Retrieved May 9, 2022, from https://www.ericsson.com/en/about-us/company-facts/ericsson-worldwide/united-states/5g-smart-factory
Glassenberg, S. (2022, February 21). Council post: 5G will revolutionize healthcare in 2022, but not how you've been told. Forbes. Retrieved May 9, 2022, from https://www.forbes.com/sites/forbestechcouncil/2022/02/17/5g-will-revolutionize-healthcare-in-2022-but-not-how-youve-been-told/?sh=2d8d7f1072b0
Guangdong Second Provincial General Hospital: A benchmark for future hospitals. Huawei Enterprise. (2021, October 26). Retrieved May 9, 2022, from https://e.huawei.com/hk/case-studies/industries/healthcare/2021/smart-hospital-gd2h
Karonis, F. (2022, April 11). What explains the growth of private 5G networks? Capgemini Worldwide. Retrieved May 9, 2022, from https://www.capgemini.com/2022/02/what-explains-the-growth-of-private-5g-networks/
McKinsey & Company. (2022, March 16). McKinsey Center for Future Mobility: The year in charts. McKinsey & Company. Retrieved May 9, 2022, from https://www.mckinsey.com/features/mckinsey-center-for-future-mobility/our-insights/mcfm-the-year-in-charts
Sultan, S., & Diehl, A. (2021, March 12). 5G and transport-envisioning possibilities for a better-connected tomorrow. World Bank Blogs. Retrieved May 9, 2022, from https://blogs.worldbank.org/transport/5g-and-transport-envisioning-possibilities-better-connected-tomorrow
Wang, J., Roy, H., Alam, S., Rao, T., Ahshrup, S., & McCluskey, W. (n.d.). The impact of 5G on the United States economy | accenture. Retrieved May 9, 2022, from https://www.accenture.com/_acnmedia/PDF-146/Accenture-5G-WP-US.pdf
Yutong launches city-level intelligent mobility solution for Smarter Cities. Business Wire. (2020, September 22). Retrieved May 9, 2022, from https://www.businesswire.com/news/home/20200921005937/en/Yutong-Launches-City-Level-Intelligent-Mobility-Solution-for-Smarter-Cities