Published: Sep 05, 2019
empowering motorists and commuters
MyTransport.SG – travel companion on-the-go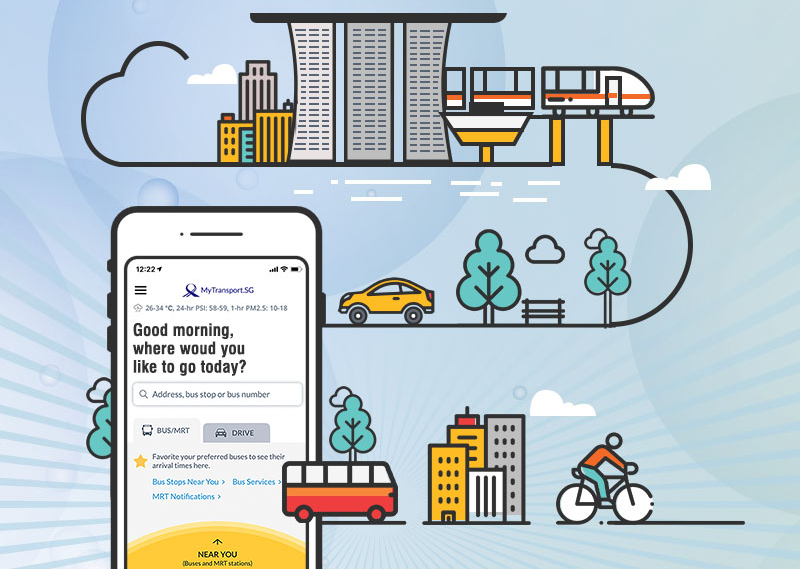 MyTransport.SG Mobile is an all-in-one travel toolkit for motorists and commuters. The mobile app with location-sensing capabilities was introduced by the Land Transport Authority in 2010 to cater to the growing population of technology-savvy private and public transport users who demand user-friendly and timely information while on-the-go.
Traditionally, transport information was limited to navigational systems that provided route details to help motorists and commuters get from point A to B. What was lacking was the availability of real-time transport information to complement the route details and help the public refine their travel plans.
MyTransport.SG Mobile addresses this by utilising a two-way engagement approach to deliver an interactive and content-rich experience. The app simplifies the process of checking on traffic news, road conditions, the location of electronic road pricing (ERP) gantries, ERP rates, parking availability, public and premium bus services, MRT and LRT stations, taxi call numbers and even the latest bidding results for the Certificates of Entitlement.
One of the new features of MyTransport.SG Mobile is the public transport Journey Planner, a handy, intuitive guide which helps commuters map out the shortest and most convenient route to their destination using buses or trains. Key functions include the counting down of bus stops and train stations to the destination; a pro-active alert when nearing the destination; and one-touch access to the user's favourite bus stops and train stations. A 360-degree interactive street view display and common taxi booking numbers are also included.
The new features ensure that even commuters who are unfamiliar with the public transport system can travel at ease, without worrying about missing their stops or travelling in the wrong direction.
MyTransport.SG Mobile complements LTA's two other transport portals - ONE.MOTORING and MyTransport.SG.
This article was first published in NCS SG50 Book "Technology Evolution", 2015 (NLB BRN:201353230)