Published: Sep 05, 2019
dispensing medicine in the digital age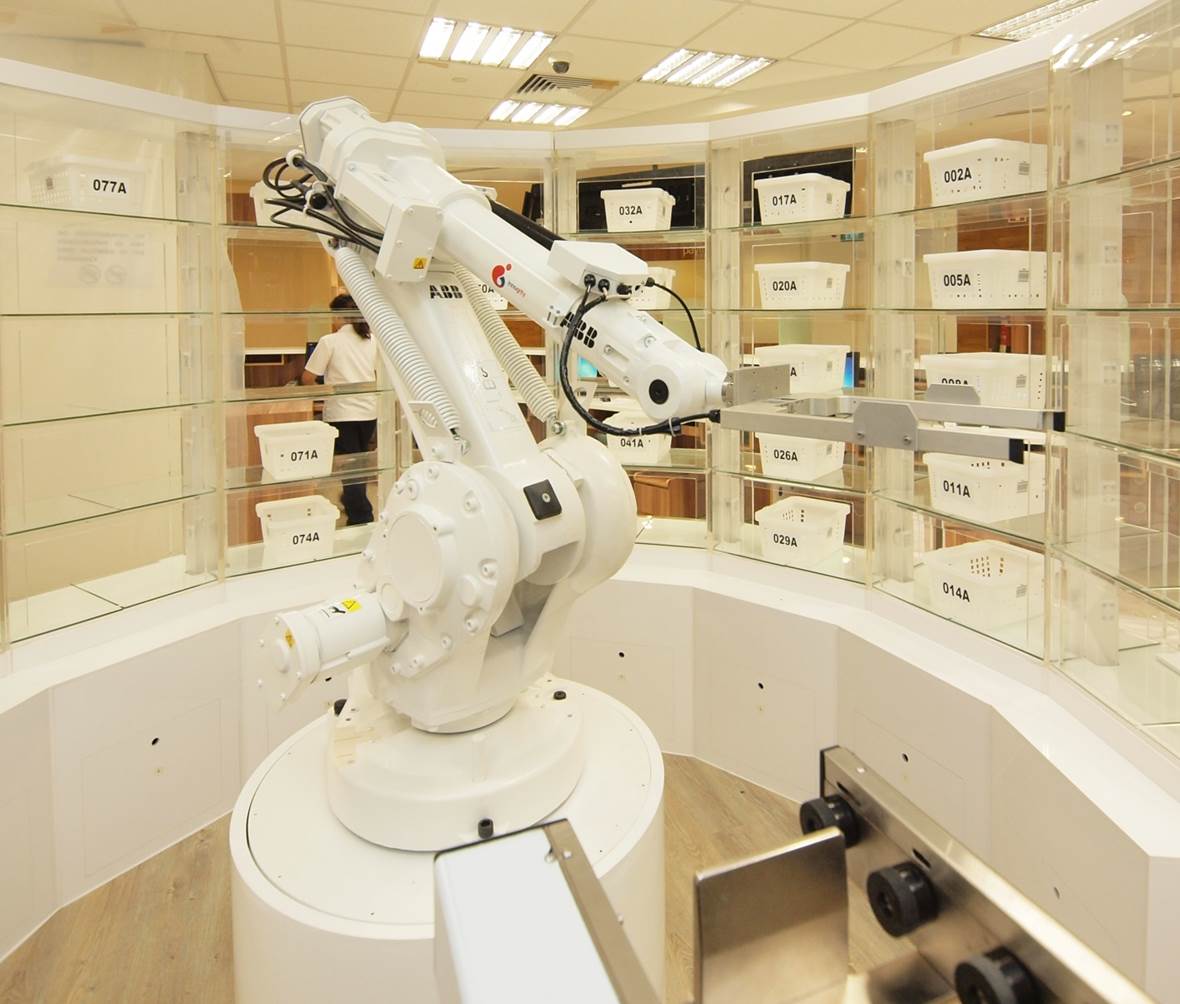 Pharmacies have never been so cutting edge – thanks to robotics, new technologies, and an intelligent software
You would expect the gleaming new robotic armature, automated dispensing machines, and conveyor belts to be found on a factory floor. In this case, they are the tools used by pharmacists at the Tan Tock Seng Hospital. This spectacular showcase of mechanical efficiency has now taken over 80% of the picking, packing and assembly of medication at TTSH's main pharmacy – a task that used to be completely manual.
Previously, the pharmacists had to manually pick, pack and assemble medicines, a process that is tedious, time consuming and prone to error. In addition, patients had to wait an average of 20 minutes before they could collect their medication, according to TTSH.
Today TTSH finds that patients get their medication in 10 minutes and that includes the time they take to walk from the doctor's office to the pharmacy. This dramatic change is due to the tight integration of different technologies and robotics from around the world that make up the Outpatient Pharmacy Automation System (OPAS). The OPAS is the brainchild of several medical institutions in Singapore – Tan Tock Seng Hospital (TTSH), National University Hospital (NUH), National Healthcare Group Pharmacy (NHGPh), and Integrated Health Information Systems (IHiS), with support from the Ministry of Health.
NCS was the systems integrator tasked with building this management software or nerve centre of OPAS, which became known as Rxpress Software.
This is the system that the pharmacy has been waiting for, and the NCS team was keenly aware that they had to get it just right. The collaborative effort between TTSH, the NHG Pharmacy and NUH has turned this vision into reality. A total of six pharmacists from each organisation formed the core team of stakeholders who worked closely with NCS to build the Rxpress Software. OPAS boasts technology that is unheard of in most pharmacies in Asia.
It is a system that is built on the foundations of streamlining the workflow in medication picking, packing, labelling, assembling, verifying and dispensing through integration with automated dispensing machines and scanning devices. The improved medication workflow is not only reducing patient waiting time, but also raising efficiency and accuracy in the medication dispensing process. The aim is to automate processes that are repetitive, such as picking, packing, labelling and assembly of medicine.
The other goal is to improve staff productivity by doing away with the rework and reducing the number of calls they make to clarify prescriptions. Previously, the TTSH staff had to rework 450-540 of the packed medication daily, due to patient's drug preferences, costs or remaining medicines at home. Staff productivity was also affected by the high volume of phone calls of up to 130 in a day from the pharmacists to the physicians to clarify and verify issues.
Complete makeover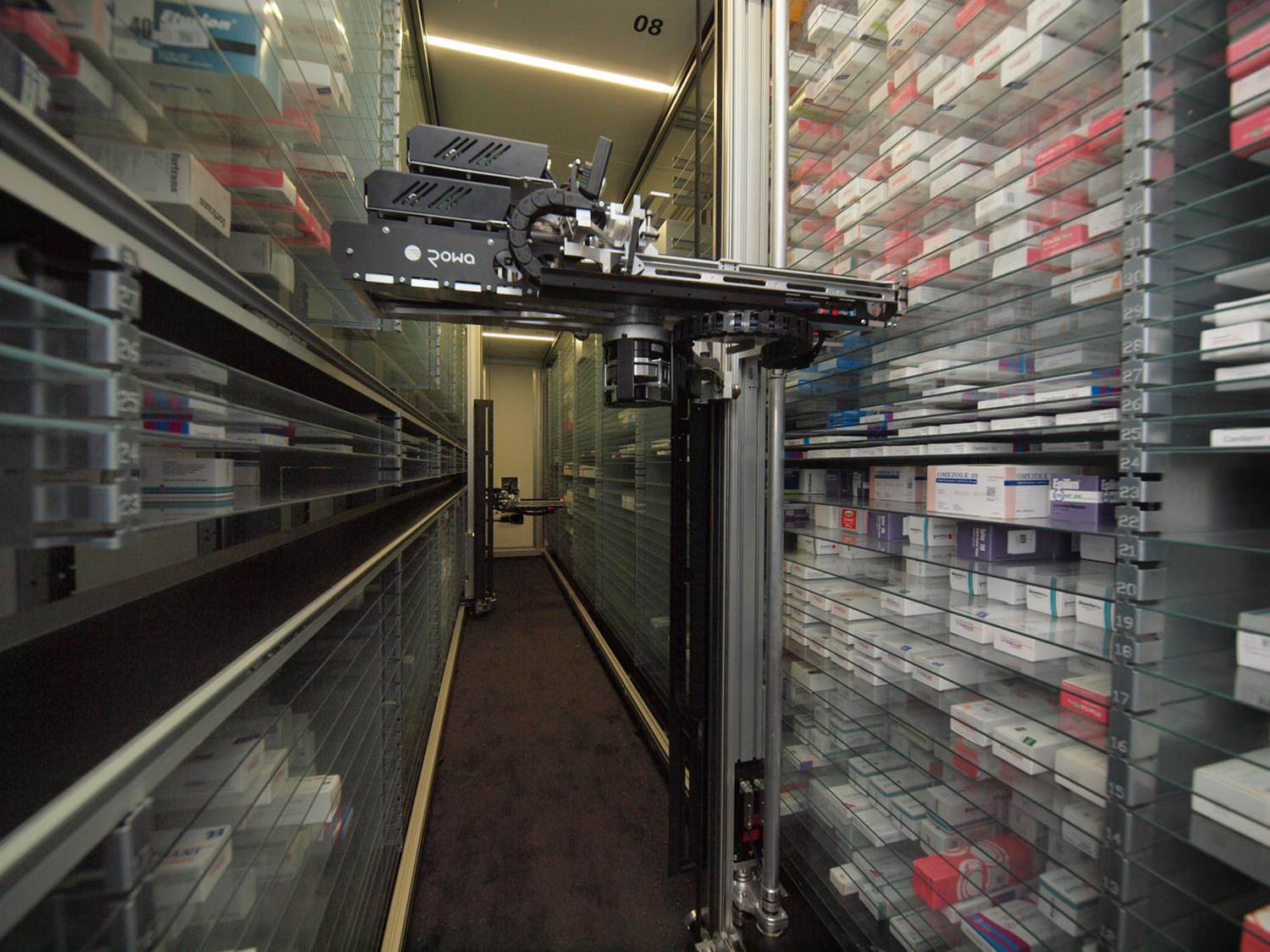 OPAS has given the pharmacy a complete makeover, with brand new technology and an ultra-efficient workflow. Now, prescriptions are filled faster and more accurately, staff productivity is higher, and patients enjoy a better care experience.
The system has halved patient waiting times, with the average waiting time at TTSH and NUH being 10 minutes, and 15 minutes at NHG Pharmacy. In general, 20% of patients now wait 5 minutes or less for their medicines.
Now, the TTSH pharmacy staff can be stationed at the specialist clinics, instead of the pharmacy, to review medication with patients and make changes before the drugs are packed, increasing their job satisfaction and lowering employee turnover costs. This has also helped to reduce rework, saving $5.8 million a year3. With OPAS, rework rates at TTSH have dropped from 30% in 2011 to 5%; at NUH, from 30% to about 8%; and at NHG Pharmacy (Chua Chu Kang Polyclinic) from 15% to 8%.
With the productivity savings and improved patient care experience, OPAS promises to transform the pharmacy workflow. OPAS can be easily scaled up to expand the pharmacies' capacities and is flexible enough to be deployed in smaller scale settings. Finally, to top it all, the achievements of the OPAS system has received recognition at the National Infocomm Awards 2014, where it was the First Runner-up for the Most Innovative Use of Infocomm Technology in the public sector. The biennial series of national level awards is Singapore's highest recognition for infocomm innovation.
Image Source: iHIS