Published: Sep 05, 2019
boosting daily operations with
Bridgestone's

digital initiatives
Fleet operators boost daily operations with Bridgestone's digital initiatives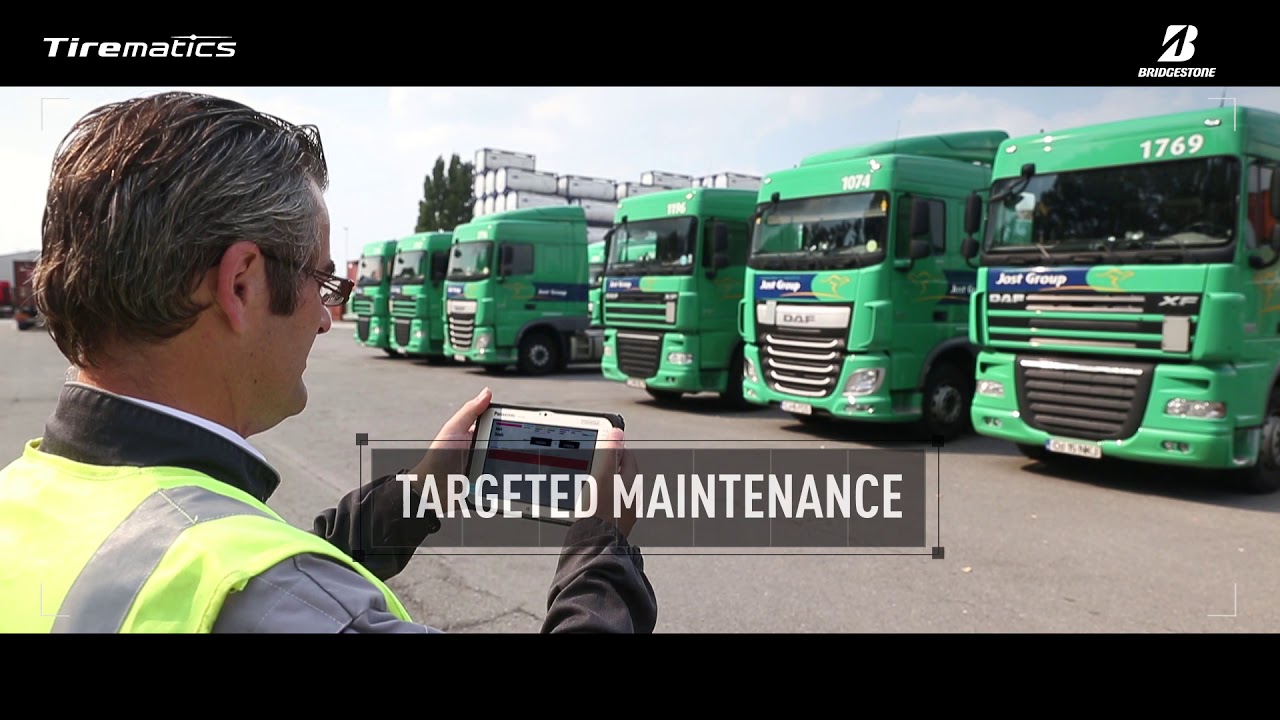 Using the latest IoT and Cloud technologies, Bridgestone Tirematics facilitates fleet management and enhances operational efficiency.
Bridgestone Corporation, headquartered in Tokyo, is the world's largest tyre and rubber company. It delivers a wide range of tyres to customers around the world, including tyres for passen­ger cars, trucks, and buses, aircraft, const­ruction and mining vehicles and motorcycles. Tyres account for about 80 percent of Bridgestone's sales, with the rest coming from a broad range of industrial, consumer products, services, bicycles, and other sporting goods.
The challenge
Proper maintenance of inflation pressure is critical to minimize fuel consumption, extend tyre life and optimize safety. Underinflated tires have a higher rolling resistance which reduces fuel economy. They also generate more heat which accelerates their wear and can lead to the early removal or roadside breakdown.
However, inspecting inflation pressure is a labour-intensive process for many fleet operators and it is often difficult for them to gain visibility on whether or not the work is properly done. While many Tire Pressure Monitoring Systems (TPMS) are commercially available for many years, they are often deemed unreliable, too complex or expensive to implement by operators.
The solution
In recent years, Bridgestone has been embarking on a digital journey putting data and digital solutions at the core of its service offering with the goal of providing its customers with industry best asset tracking and asset health monitoring.
In 2016, the company began the development of a new TPMS offering built upon a very modern and scalable IoT architecture. Having already developed several strategic line of business applications for Bridgestone, NCS was tasked to develop this new TPMS solution.
Bridgestone had already designed innovative sensors to capture accurate pressure and temperature from tyres and that can be easily fitted to existing tyres in minimal time. So the first challenge for NCS was to design a cloud architecture that could provide very low latency to trigger fast alerts and be deployed at scale across the world.
NCS began exploring multiple IoT platforms and selected Microsoft Azure as the core technology to power the new TPMS - Tirematics offering.
The measurement engine, which lies at the heart of Tirematics, comprises microservices implemented through the Azure Service Fabric. The measurement engine receives the tyre pressure and temperature readings sent in by the tire sensors via the cloud. The engine will compare this reading against the reference threshold for the particular vehicle or tyre. If the readings exceeded the threshold, it will send an alert via SMS and/or email.
NCS managed every step of the Tirematics project from architecture design, provisioning, deployment, to monitoring and management of systems. In June 2017, Tirematics was officially launched as part of Bridgestone's Total Tyre Care solution.
Benefits
Despite the complex architecture with many Azure services interweaved into the measurement engine, Tirematics proved to be very stable. This was because Azure IOT services eliminated the need for complex set-up and configuration of sophisticated IOT software stacks, and had already been tested against world-class quality and performance benchmarks.
With the launch of Tirematics, Bridgestone's fleet operators immediately experienced major improvements to their daily operations.
Fast and reliable
Tirematics's advance measurement system reacts quickly to pressure/temperature issues and instantly informs Bridgestone's servicing technicians, ensuring that all the issues are addressed before the vehicles leave the depot.
Tirematics also sends out proactive SMS alerts and regular maintenance reports via email, allowing fleets and engineers to keep maintenance operations running at an optimal level.
Cost savings
With the introduction of Tirematics, many truck fleets reported a significant reduction in costly tyre-related roadside breakdowns as well as a positive impact in fuel consumption due to the improved tyre inflation.
Increase in tyre lifespan
Data and reports from Tirematics allow maintenance to be performed in a timely manner and the actual condition of the tyre to be measured more precisely, increasing tyre lifespan and reducing the number of tyres that are discarded prematurely.
Reduction in vehicle downtime
Tirematics is able to pinpoint precisely which tyres are having issues. This enables the engineer to direct maintenance efforts to the exact tyre and tyre position without having to spend time identifying the faulty tyre.
"The success of this partnership with NCS has been a key driver behind the growth of our Tirematics offering and our ability to meet our commitment towards safe and smart mobility globally." Thierry Jakircevic, General Manager of Digital Solution Center, Bridgestone Corporation.
Bridgestone's digitalisation journey
NCS has been building enterprise systems for Bridgestone since late 2010 and developed Tirematics, Toolbox and BASYs using Microsoft Azure Platform-as-a-Service and Infrastructure-as-a-Service. This involved managing the full Azure implementation stack from architecture design and provisioning to deployment, monitoring and management of the systems.
The Toolbox application empowers Bridgestone's field personnel in over 80 countries to conduct tyre audits, capture valuable information regarding their customers' operation and provide high-quality consultancy services.
BASYs is an end-to-end retread management platform using web and mobile applications that digitalises the entire tyre retreading process to improve manufacturing efficiency and quality, as well as provide customers full traceability on their casings.
BASys centralises information and reduces paperwork, enabling easy retrieval of records, lower costs and improved time-to-market and accuracy.
By coordinating and streamlining the retreading process, it helps to encourage more partners to come on board to benefit from increased convenience and environmentally-friendly practices.
The Tirematics application enables real-time monitoring of tyres through the use of embedded sensors, gateways and powerful cloud-based stream analytics and event processing.
NCS is also developing a new system called Monitrix, which measures the performance of the conveyor belts and is part of Bridgestone's digital efforts in the mining area to provide its customers with predictive maintenance.